Foreign Correspondents' Club of Thailand (FCCT) / LightRocket 7th Annual Asia-Pacific Photojournalism Contest
Rules and Submission Guidelines for Contestants
What Can You Win?
Photographer of the Year: a $4,000 cash prize.
First-place winner Special Category - The Environment - sponsored by Indorama Ventures Plc: $2,000 cash.
Three First-place winners in Spot News, Feature Photography and Photo Essay will each receive: $1,500 cash.
Total cash awards of US$ 10,500 are courtesy of Indorama Ventures PCL and the GP Group. Winning photos and any honourable mentions will be displayed in a special exhibition at the Foreign Correspondents' Club of Thailand's' gallery in Bangkok. VIP guests and the media will be invited to the awards ceremony and the official opening of the exhibition.
How to Enter? If you don't already have one, you will need to sign up for a free contributor account on LightRocket - which provides online tools for photographers and visual artists. Then you can upload and submit your entries. If you already have a LightRocket account, just login and click on the Contest tab on your Archive page.
What does it Cost to Enter? NOTHING! Your LightRocket account is free and so is entering the contest. And you don't have to give up copyright in your images or anything like that.
Who's Eligible? Any photographer with images taken in the Asia-Pacific region in 2014. Photographers do NOT need to be members of the FCCT, nor do they need to be based in Asia. All submissions must be made by individual photographers. Wire agencies and photo agencies that wish to submit work should encourage their photographers to sign up and submit their entries - agency affiliation may be included in their credits.
What Kind of Photos? All photos must be taken in the Asia-Pacific region (defined in the list below). Judges will accept submissions in four categories:
Spot News - for the best single image photograph taken at a news event in the Asia-Pacific region. No more than five photographs per photographer may be submitted in this category.
Feature Photography - for the best single-image non-news "feature" photograph taken in the Asia-Pacific region. No more than five photographs per photographer may be submitted in this category.
Photo Essay - for the best collection of up to 12 photos on a single topic in the Asia-Pacific region. No more than three photo essays per photographer may be submitted in this category.
The Environment - A special category, sponsored by Indorama Ventures Plc, for the best single photo or photo essay of up to 12 images focusing on on the environment, including issues such as sustainability, natural resources, and biodiversity. No more than five single images and/or three photo essays per photographer may be submitted in this category.
In addition, the judges will select one Photographer of the Year to recognize either the best single image, photo essay or the most impressive collection of work taken in 2014 and submitted by a single photographer.
What Are The Judges Looking For? This contest aims to promote excellence in photojournalism in the Asia-Pacific region. The judges will be looking for images or essays on topics that impact our lives in significant ways as well as investigative photo-reportage involving important issues, especially where such photography is part of a significant body of work.
Photos must be taken in the Asia-Pacific region, defined as: Afghanistan, Australia, Bangladesh, Bhutan, Brunei, Cambodia, China, East Timor, India, Indonesia, Japan, Korea, Laos, Malaysia, the Maldives, Mongolia, Myanmar, Nepal, New Zealand, Pacific Islands, Pakistan, Papua New Guinea, the Philippines, Singapore, Sri Lanka, Seychelles, Taiwan, Thailand, Tibet, or Vietnam.
When's the Deadline? Photos must be submitted by noon Bangkok time on Tuesday, March 24th, 2015. There will be no extensions. Winners will be announced in May 2015.
Terms and conditions:
There are no fees for entry, photographers may register on LightRocket and submit to the contest FREE of charge.
Photographers retain copyright to any images they submit to the contest.
We will not accept entries by email or by CD or DVD - You must be registered on LightRocket and logged in to submit images to the contest.
By submitting images, photographers agree that the FCCT, LightRocket and its contest sponsors will have the right to reproduce any winning images, or images that have been given honourable mentions - with attribution to the photographer - for use in marketing efforts related to the contest, including future contests and on the FCCT and LightRocket websites. The FCCT and LightRocket also have the right to distribute winning images to the media to promote the contest. Submissions cannot be used by the FCCT or LightRocket or other sponsors for any commercial purposes or other uses unrelated to the contest.
Images must be free of manipulation other than ordinary changes that might be made using conventional darkroom techniques, such as spotting dust and scratches, changing colour balance, conversion to black and white, adjusting contrast and other levels. Composite images and photos with special effects, borders, added backgrounds, and/or embedded names (such as photographer names or agency names) are not permitted. The judging panel reserves the right to request original RAW file(s), slide(s) or negative(s) and/or to disqualify images where post-processing is deemed to have exceeded acceptable photo-journalistic practices.
Photographers agree that prints of the winning images (or images that are honourably mentioned) may be produced by FCCT and may be exhibited by the FCCT and its sponsors at any location provided that such use is related to the contest.
General Rules:
Image Size: The longer aspect of all photos submitted MUST BE AT LEAST 3600 pixels and images should be saved at a high quality level.
Created Dates: Submissions can be published or unpublished work but MUST have been created between January 1st 2014 and December 31st 2014. Photos taken earlier are eligible only if they are part of a photo essay in which a significant portion of the work (more than half of the images submitted in the essay) occurred within these dates. Pictures taken in 2015 will not be considered - save them for next year's contest!
File Info: All images MUST contain the following File Info (Metadata): Caption, Created Date and Location information – at minimum, location information must list the Country where the image was taken. If your files already have these fields filled in, the metadata will be included in your images when you upload your files to LightRocket – if not you can edit these fields online once your images are uploaded (see instructions below).
Photographers may submit entries in more than one category, but individual images can only be entered once, either as a single image or as part of a photo essay. Individual images entered as part of a photo essay are eligible for an award in other categories but cannot win more than one prize.
Contestant Information:
You will need to use your email address to register on LightRocket. Please make sure this is an email address that you actually use so that we can contact you about the contest - especially if you win!
Contestants will be required to enter a a brief biography, full contact information (including address and phone number). This information is required so that we can contact the winners and publish their biographical details in the FCCT magazine and in press releases. The information will not be used in any other manner as per LightRocket's Privacy Policy.
Uploading Your Entries
The instructions below will explain how to upload your entries, how to make sure all required metadata/file info is complete and how to sort your entries into contest category galleries. If you prefer, you can simply watch a VIDEO TUTORIAL on how to enter.
Please Note: The site has a built in HELP system. When you are logged in, simply click on 'Help' in the main menu in the top right corner of your screen. You can turn on Help Icons so that a number of question mark icons will appear on various pages of the LightRocket site. Click on the question marks to read the system's help texts. There is also a LightRocket Support page with lots of FAQs and Video Tutorials.
Once logged in - entering the contest is as easy as one...two...three:
1) Upload your Images
The easiest way to upload files is to chose the Drag and Drop uploader from the My Account Menu: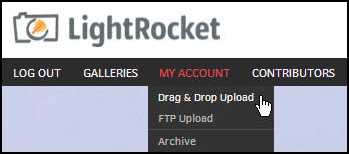 Just choose your files and Drag and Drop them onto the target and when they are processed, click on the 'View uploaded files' button. If you need help check out the Drag and Drop Video Tutorial
Or you can upload by FTP. Chose FTP Upload from the My Account menu: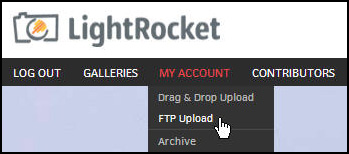 Then follow the "How to" instructions on the FTP upload page to upload your images using dedicated FTP software. The "How to upload using FTP software" instructions includes a link to a free FTP software solution, Filezilla (for both Mac and PC).
If you need help, you can view a Video Tutorial on how to set up and use FTP Software so you can quickly connect to your LightRocket FTP folder and upload anytime.
Once your upload is complete, click on the Archive Tab or the My Account/Archive main-menu option: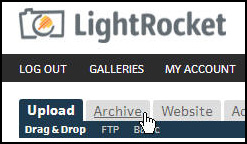 On your archive page, please check that all the images you uploaded are visible in the appropriate folder in the panel on the left.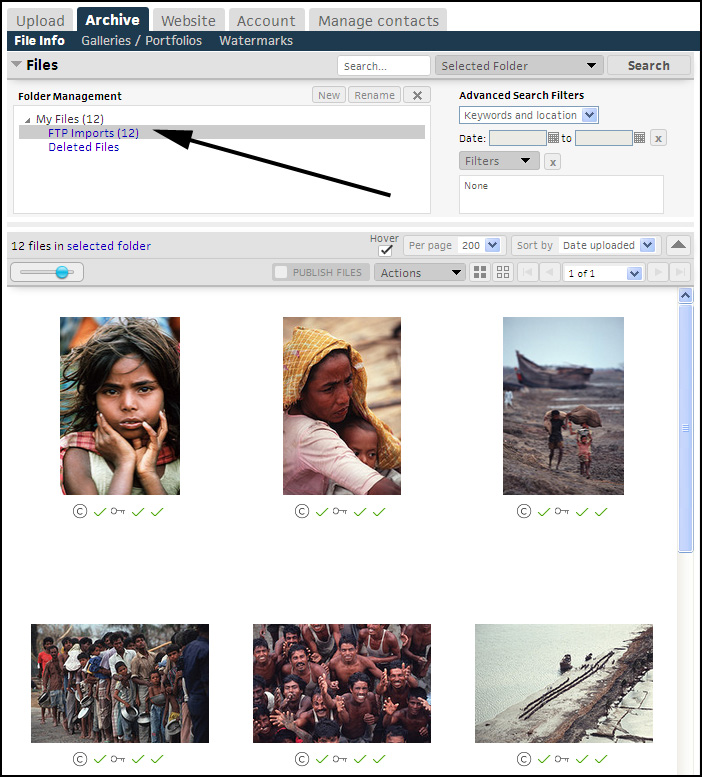 2) Check your Metadata (File Info)
For your submission to be accepted all files must include the following metadata information:
Description - The who, what and why of your picture. DO NOT INCLUDE YOUR NAME OR ANY OTHER INFORMATION ABOUT YOURSELF OR AGENCY AFFILIATION ETC IN THE DESCRIPTION (CAPTION) FIELD OR YOUR SUBMISSION WILL BE DISQUALIFIED.
Date - If you upload an image from a digital camera, the LightRocket system should read the 'date created' info in your image and populate the date field, otherwise please pick a date.
Country - You must indicate where the picture was taken in the Country field.
To edit Metadata, click on each thumbnail in the left side panel and make sure that required file information (as listed above) is visible in the corresponding fields in the 'Edit File Info' panel on the right of the screen. You can do this in batches but we urge you to create a detailed caption for each image submitted.
Note: We do not require you to have anything in the Tags/Keywords field and/or the Copyright and Credit fields (submissions are anonymous for judging) – you can leave these fields blank if you want, or if these fields are already populated, you can simply leave the metadata as is.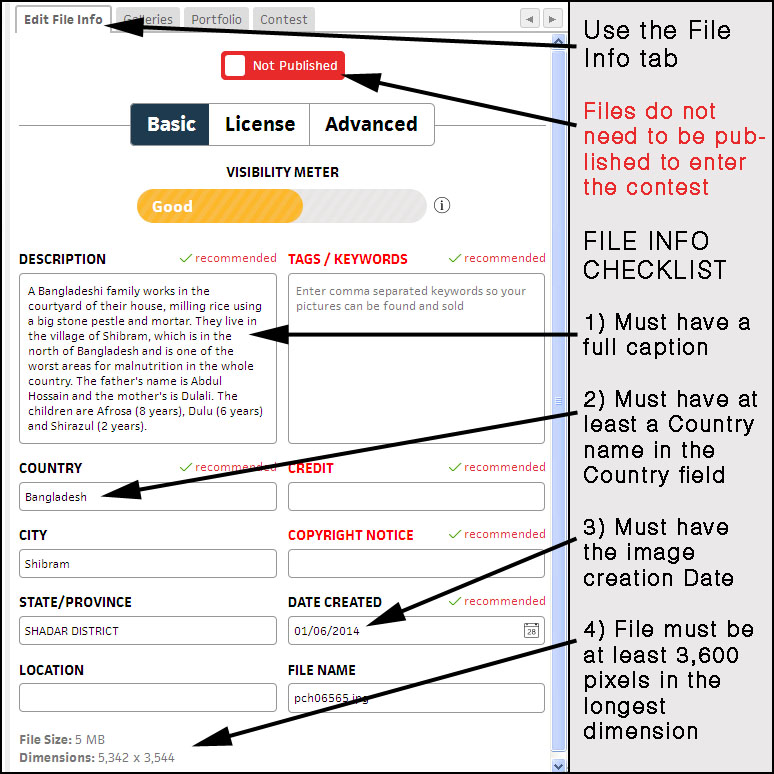 3) Submit your images to the contest categories
Once you have checked that all images have the correct metadata (as above) you can submit your contest images.
Click on the Contest tab:

Then click on the green 'Submit to a Contest Category' button and you will be asked to enter some information about yourself. Please make sure you give us a biography of at least a few sentences. Feel free to include details of awards you have won and so on. You can edit this information at any time up until the deadline but if you fail to add a reasonable biography your entry may not be considered by the judges.
Once you have saved this information you can choose a contest category to enter.
The category will appear in the list at the top of the right side panel. If you choose to enter an essay category, before you can add photos you must enter a title for your essay and fill in a short description about your essay, then click 'Save'.
Then you can add your images by clicking on the yellow 'Add Content' tab in the right side panel. Simply drag an image or a batch of images from the left side (Archive) panel into the lower panel of the competition category on the right. If your images do not comply with the rules for example they are too small or do not contain the required file info you will not be able to add them. Please fix missing file info, or re-upload files that are too small etc and try again.
If you want to order your files, for example in a photo essay, you can do so by simply dragging and dropping them into position in the right side contest category panel – you can click on the blue 'View full screen' button to view all of your images to help when sorting the order – and you can pick a cover image by dragging it into the Cover image area on the right above the thumbnails.

Continue to submit to as many categories as you like. When you are finished your Contest tab panel on the right might look something like this: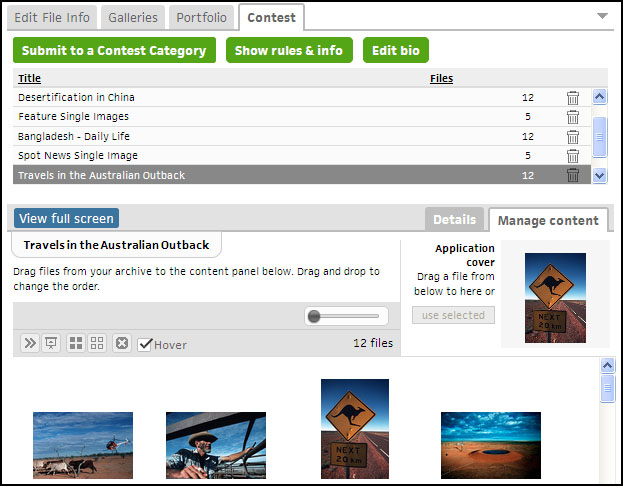 PLEASE NOTE: DO NOT DELETE FILES FROM YOUR ARCHIVE THAT HAVE BEEN ENTERED INTO THE CONTEST UNTIL AFTER THE CONTEST DEADLINE OR THEY WILL NO LONGER QUALIFY!
If you have any questions about the competition rules or submission instructions you may contact us at info@lightrocket.com. But before doing so, please use the built in HELP feature (you may well find the answer to your question) or check the contest VIDEO TUTORIAL.
Thank you.