AFP Furor: Copyright Issues in the Spotlight
YC
Yvan Cohen
Tue Jul 13 2021
The Internet is abuzz with a story that pits a former AFP photographer against his erstwhile employer.
The issue is copyright.
Specifically, should AFP have the right (under Portuguese law), to retain the copyright to an employee photographer's images (even though the photographer signed a contract with AFP).
Putting aside the nebulous details of this legal tussle, and one's natural impulse to support an individual photographer doing battle with a major media organisation, the story raises broader questions. Questions surrounding the importance of copyright, and how we, as individual photographers, should protect our copyright.
More than just a photo
Stripped of its legal clothes, copyright is about owning something you created.
Your eye, your vision, your talent resulted in an image being born, so that image should belong to you…right? The good news is that in many legal jurisdictions around the world, the default position is indeed that any artwork is automatically the copyright of its creator.
I'm no expert in copyright law but it's clear that depending on where you live, the laws will differ, sometimes significantly. So if you value your copyright, it's worth establishing a basic claim to your work (which we'll explain how to do) and reading up on the copyright laws in the country where you live.
At the most basic level, establishing a copyright claim means embedding credit and copyright strings in all your files (which you can do as a batch action). Embedding means writing your credit and copyright info into the corresponding metadata fields (credit and copyright) of your files. These standard fields can be accessed in all the major image management tools (Photomechanic, Photoshop, Bridge, LightRoom, ACDSee etc).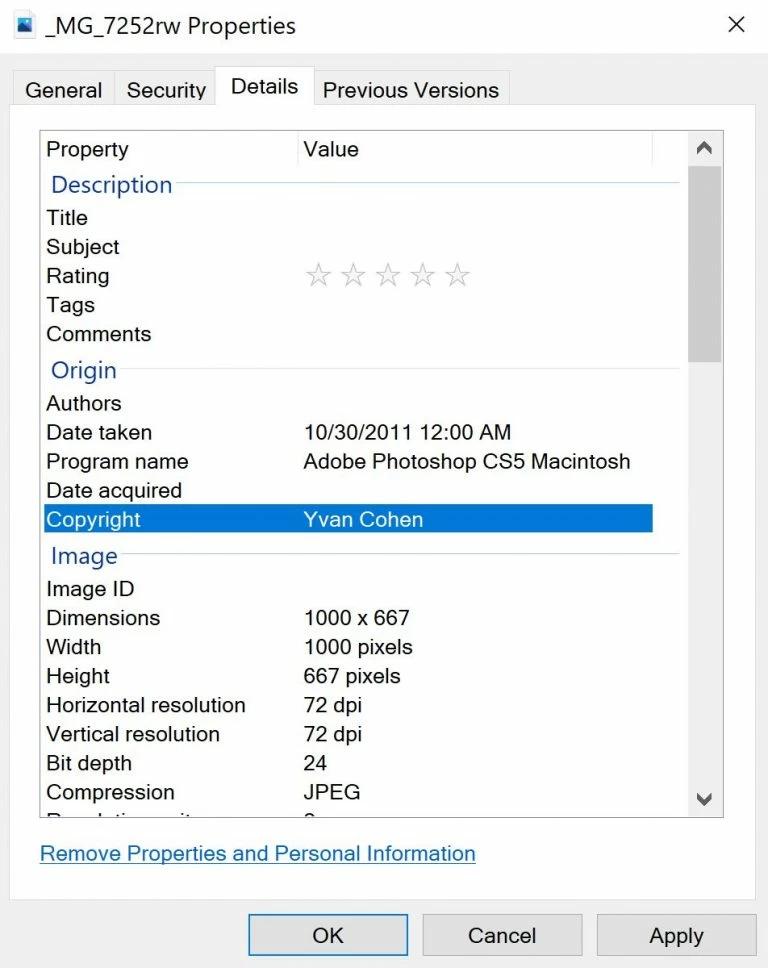 Right clicking and selecting 'Properties' on an image file will give you access to the metadata details of the image – where the copyright lies.
By doing so, you're ensuring all your photographs are dispatched with your copyright claim attached (granted it can be stripped out by unscrupulous users). The point of this is to avoid your images becoming 'orphaned' on the Internet (ie. when your files have no evidence of a copyright claim associated with them). Despite this, depending on the jurisdiction, even orphaned works tend to retain some protections for the author, though the onus is often left to the end user of an image to find out who the image belongs to.
Third parties make things trickier
As the AFP case illustrates, copyright only tends to become an issue when you start licensing your work through a third party: signing a contract to create images on assignment through a hiring client, working as a permanent employee, or working with a third-party distribution agent. In all these instances, copyright becomes a much more contentious and delicate issue.
We have seen cases where photographers are prepared to cede considerable rights to a major media organization just so they can secure an assignment or get their work published on a high profile platform. In this instance, the competitive environment photographers operate in makes them their own worst enemy; prepared to compromise their rights in exchange for seeing their credit in a famous outlet.
I remember being approached by a wire service editor who offered me 'guaranteed' regular assignments with the proviso that I would hand over copyright to the organization. The implication was that the soft promise of regular work was a fair exchange for my copyright.
I rejected that offer, pointing out that the wire service was not paying a salary, was not covering my health or equipment insurance and was providing me with no contractual guarantees, other than a promise, from a friendly editor, of work.
My point here is that copyright represents value that you should always negotiate to protect. And any rights you do cede, should be measured against corresponding remuneration or guarantees. These guarantees could include an employment contract, healthcare and other benefits. It is likely that the Portuguese photographer at the center of this current copyright storm actively granted rights to AFP in return for certain benefits.
Doing what's best for you
Ownership of your own work should be seen as something inalienable. Often, assigning clients will take the position that since they are contracting you to create images for them, they are thus purchasing all the rights (including copyright) to the images created on their behalf. Of course, they have every right to play for what they can get, and you have every right to refuse.
Think of it in these terms: your client is paying for your time (much as they would for any skilled contractor) and they are paying for the use of the images you created for them in the context for which there were created (a brochure, an article or whatever). An assignment is an exchange of time, skill and of a set of images for a prescribed usage.
It does not, and should not, automatically include the transfer of the actual copyright of the work you created, unless of course you actively agree to hand those rights over, or to share them (as I sometimes do when the client represents a cause I want to support). Big clients like to give photographers 'contracts' to sign, implying there is no room for negotiation. Challenge them. Point out that a contract is in fact an 'agreement' by two parties. Negotiate.
With all this in mind, the question of copyright protection remains one of personal choice.
Exposure vs. copyright
As access to distribution channels has broadened and as digital technology has democratized the ability to participate in the photo space, the desire to be seen online sometimes overshadows concerns about rights.
Sites like Pexels and Unsplash offer amazingly good photography for use with almost unlimited rights.
For the end user it's convenient and incredibly cheap (free even). But these sites aren't all bad. The photographers who upload to these sites may have chosen a model that grants considerable rights to the end user, but at the end of the day, they still retain ownership of their work.
Thus, while over supply and competition have pushed image license fees down, photographers should not give up the one thing that should always remain inalienably theirs – copyright.
---
Written by Yvan Cohen | Yvan has been a photojournalist for over 30 years. He's a co-founder of LightRocket and continues to shoot photo and video projects around South East Asia.
To read more helpful articles on photography, check out our blog page.
Join our growing photographer community at LightRocket and get powerful archive management and website building tools for free!
---