Steve McCurry's Afghan Girl - An Icon Shrouded in Questions
YC
Yvan Cohen
Mon Nov 22 2021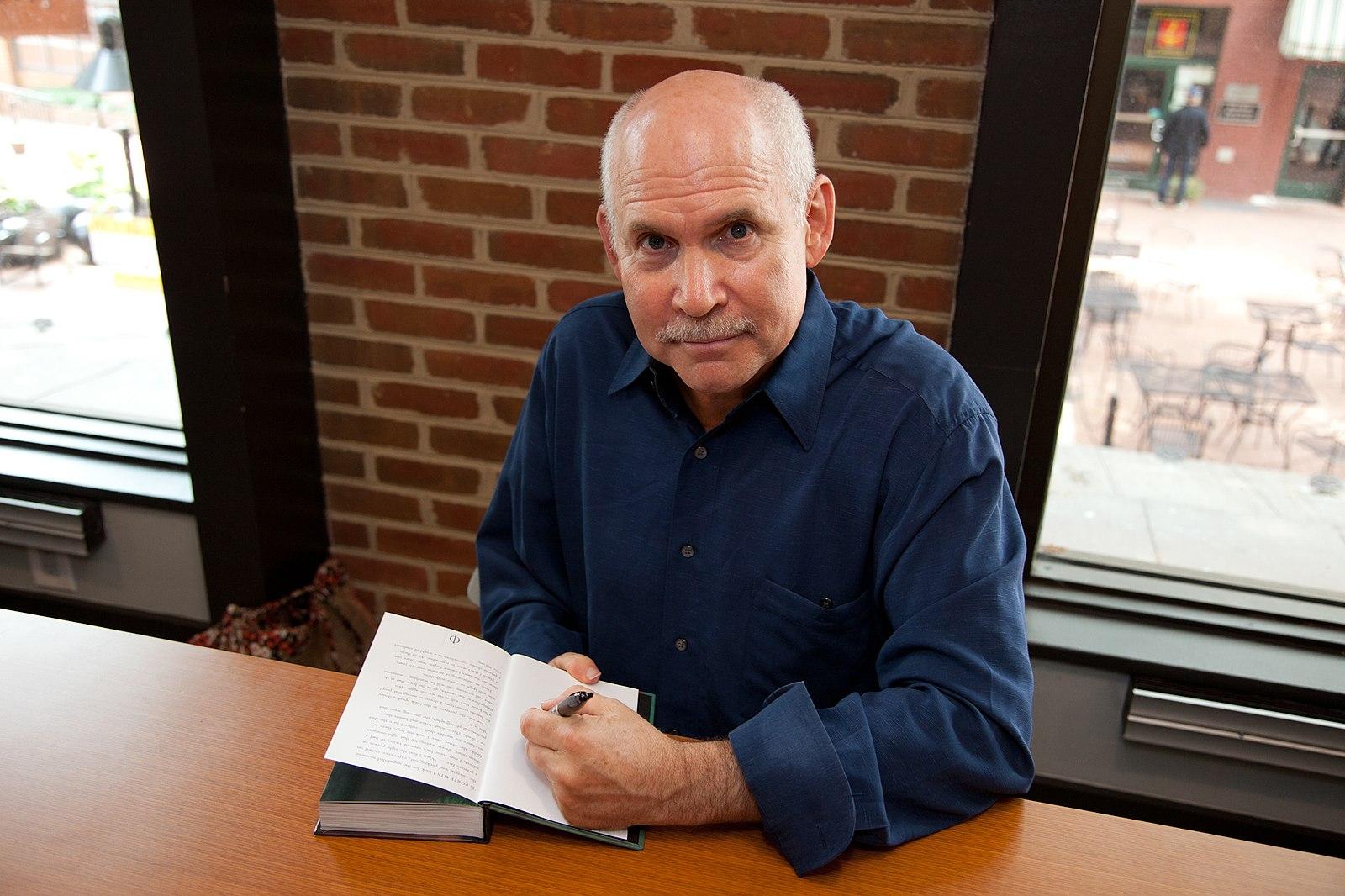 Published on the cover of National Geographic in 1985, Steve McCurry's image of a 12-year-old Afghan refugee girl, Sharbat Gula, is arguably one of the most iconic portraits of our age, a kind of latter-day Mona Lisa.
In 1984, when McCurry stumbled across his subject in a school in Peshawar, Pakistan, he would immediately have recognised the opportunity for a strong image. He surely never imagined just how important that one picture would become, nor the degree of fame and fortune it would ultimately bring him.
The girl staring out from the cover of National Geographic conveys innocence, vulnerability and fear. The eerie clarity of Gula's luminescent green eyes gives the viewer the sensation of staring deep into the girl's soul. Her youthful face adds a veneer of hope to an image that otherwise represents the tragedy of displacement and destitution.
In an interview with CNN, McCurry said "there has to be an emotional component to the picture that you connect with on a profound level. Once you see it, you can't forget it, and it is so compelling and powerful that it becomes part of the cultural landscape."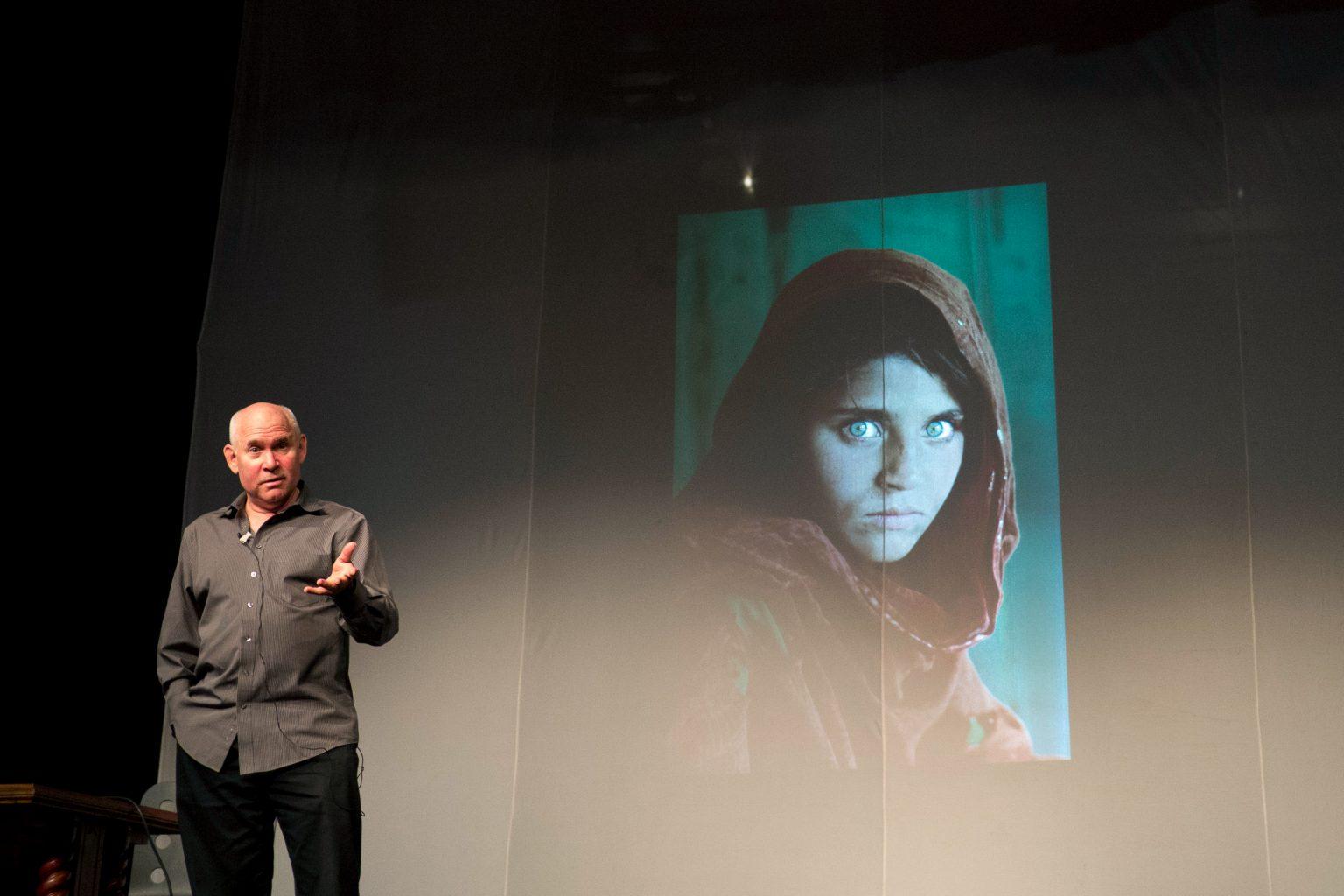 Steve McCurry giving a presentation on the very image in question.
And yet, as powerfully natural as the Afghan Girl portrait may seem, there is also something unmistakably contrived in McCurry's picture. The composition feels too perfect not to have been arranged. The stillness of the girl suggests a formal portrait session.
Though universally recognized as one the greats of photojournalism, McCurry has often been accused of staging his pictures.
Observers who witnessed McCurry working in India have claimed that some of his greatest images – like his shot of the Taj Mahal with a steam train in the foreground – were carefully coordinated. Other claims have centered on his digital manipulation of images, including the removal of elements to enhance composition.
McCurry's Afghan girl has also stirred controversy.
Critics note that the image was created without formal permission. Both McCurry and Nat Geo reported that the girl was an orphan, although the BBC later reported that she had crossed into Pakistan with her father – from whom, traditionally, permission to take her picture should have been sought.
All this being said, the realities in the field mean that it sometimes just isn't practical to send for a parent and ask for formal permission. If McCurry had gone through that process, his amazing picture would perhaps have been lost. The spontaneity of the moment gone.
It is strange, though, that McCurry did not take the trouble to note the name of his subject, especially since identifying the subject of an editorial picture was already a long-established standard. The caption published alongside the picture in National Geographic simply said 'Haunted eyes tell of an Afghan refugee's fears.'
It wasn't until 17 years later that Nat Geo began a much-publicized search to re-locate the 'Afghan girl' to find out how she had fared. Launching a follow-up story on the woman who had become a global icon.
Putting aside whether McCurry staged the image and the question marks over why the girl's name was not recorded at the time, broader issues remain. Does McCurry have a moral responsibility towards a subject who has led a life of hardship and suffering, while her image has brought fame and fortune to the photographer?
Let's start with the reality of McCurry's job: he is a photojournalist (or a 'visual storyteller' to use his own term) and not a charity worker. His role, therefore, is simply to create powerful images that tell stories, that inform us of issues that might otherwise remain invisible.
From this perspective, McCurry has done a great job. His Afghan Girl image prompted Nat Geo to set up a charity for Afghan girls which reportedly raised more than a million dollars. His image has fulfilled its purpose by raising awareness and prompting people to donate towards causes aimed at improving the lot of displaced children like Sharbat Gula.
Even so, one can't help wondering why it took almost two decades before McCurry and Nat Geo took the initiative to try and re-locate Gula. And given that McCurry sells a single signed 20×24 inch print of Sharbat Gula for US$ 18,000, one wonders if a part of each sale could not have been given back to Gula or donated to a relevant charity, or both.
In the end, however, it is about responsibility and respect. It is strange that McCurry did not record the name of his subject. Perhaps McCurry had pushed hard to get his shot and felt it would have been undiplomatic to then ask for personal details. Maybe it was a case of, 'we got the shot, now let's get out of here'.
As photographers, it behooves us to always seek a balance between the desire to create a great image and our responsibility towards the subject of our work.
Could it be that McCurry, in his eagerness to get that shot, lost that balance and put his own interests and ambition before the interests of a frightened refugee girl? It would have been easy to do in the heat of the moment,
Whatever we think about the rights and wrongs of the Afghan Girl, and indeed of the controversies surrounding Steve McCurry's career, one cannot deny his outstanding talent and his unique ability to create arresting images. His vision has shaped the world of photography and indeed the way in which many of us, especially in the West, see the world.
It remains for the photography community to learn as much from McCurry's visual talent as it does from the ethical questions that his controversial career have often raised.
---
Written by Yvan Cohen | Yvan has been a photojournalist for over 30 years. He's a co-founder of LightRocket and continues to shoot photo and video projects around South East Asia.
Featured Photo by John Ramspott
To read more helpful articles on photography, check out our blog page.
Join our growing photographer community at LightRocket and get powerful archive management and website building tools for free!
---