7 Ways Photographers can Stay Busy During the Coronavirus Pandemic
YC
Yvan Cohen
Fri May 22 2020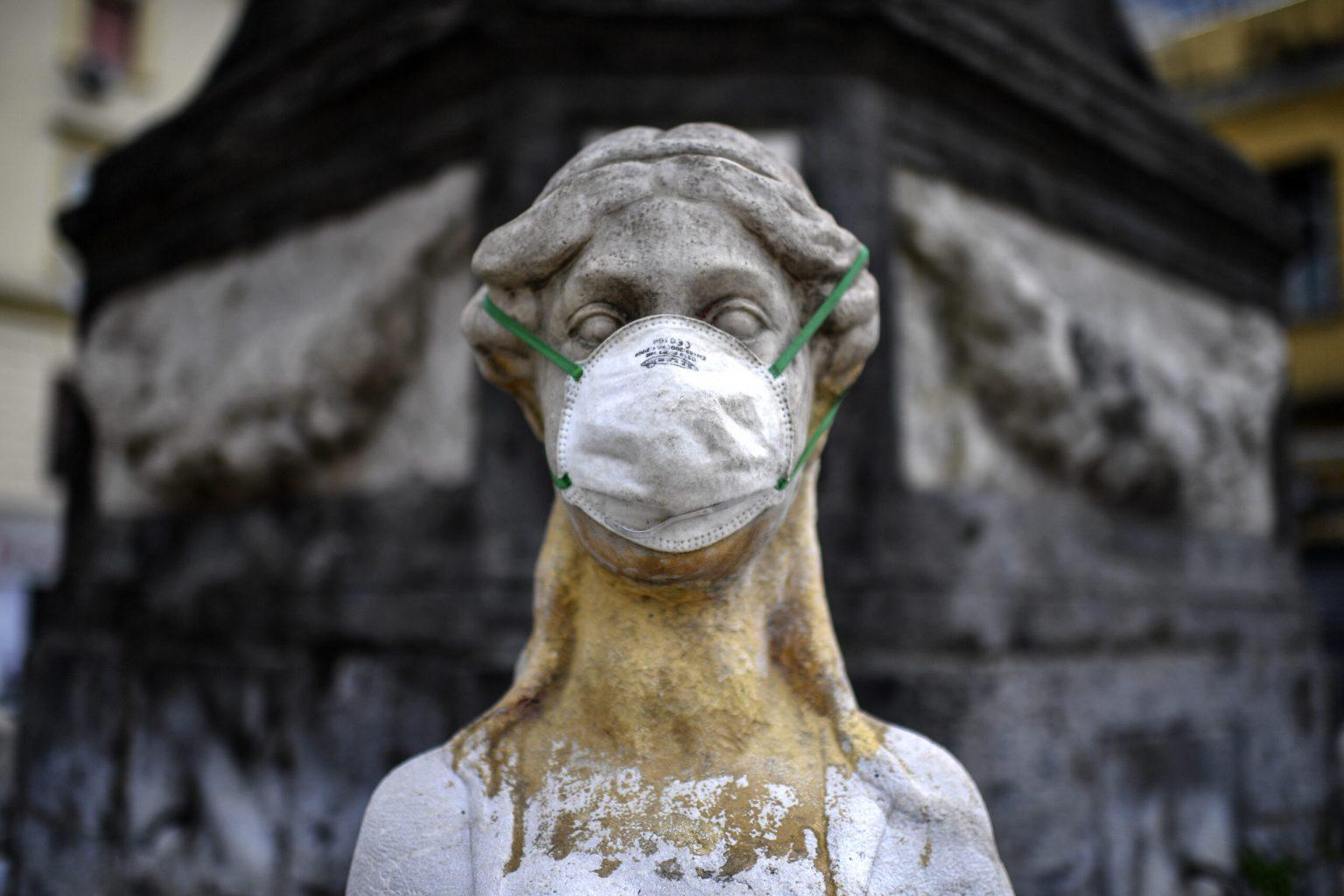 We are living through extraordinary times. A global pandemic is turning our lives upside down. With no reliable treatment available and a vaccine months, perhaps years, away the disruption is likely to continue for the foreseeable future.
For independent freelance photographers, the consequences of the pandemic have been profound. Events and weddings have been cancelled, portrait shoots abandoned and collaborative projects mothballed.
In this article we look at seven ways photographers can respond positively to current pandemic; by drawing on our talent, our resilience and our creativity.
1. Catch up with the backlog
Locked down, unable to travel and the phone has stopped ringing. You've suddenly got lots of time on your hands.
Put your newly found free time to good use by catching up on all those tasks you've been forever procrastinating over.
Why not start off by getting your archive in order. Remember, an archive is only valuable if your files are properly tagged and captioned. Without captions and keywords, your pictures cannot be found, meaning they can't be sold.
It's not the most exciting of tasks, but since you probably have plenty of time on your hands, now is the time to finally buckle down and do it. And remember, LightRocket has some great tools for organizing files into folders and galleries as well as functionality that allows for batch tagging and captioning.
2. Explore online distribution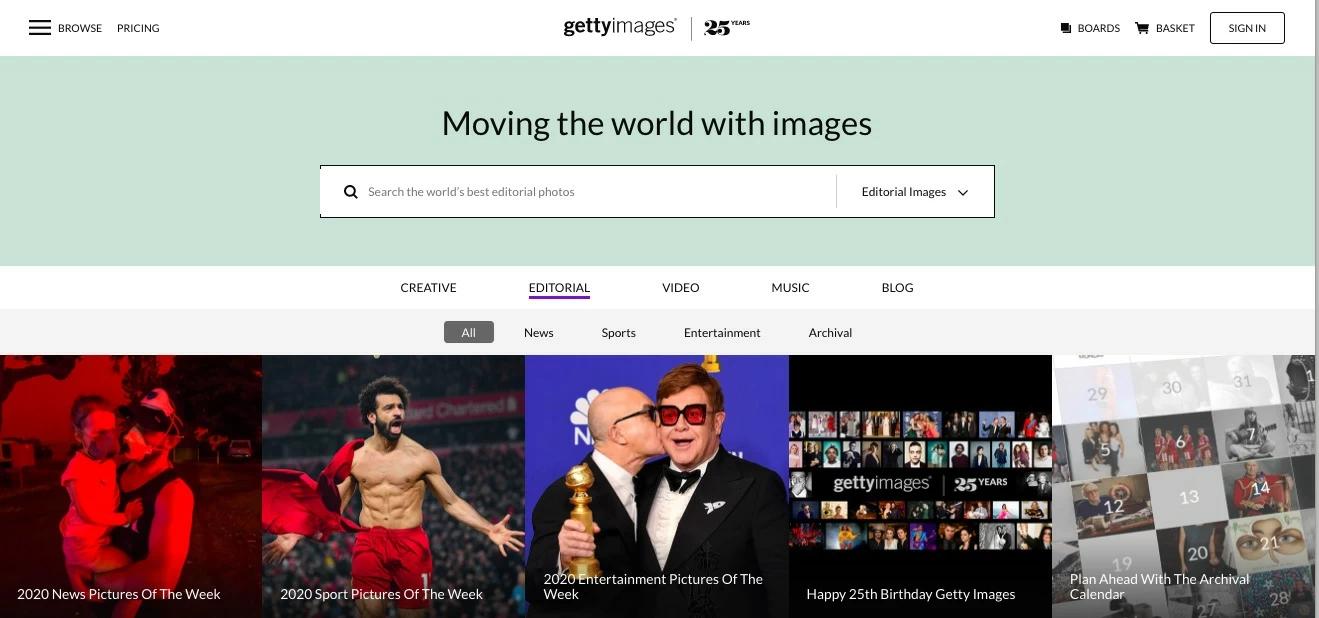 Screenshot of Getty Images website
Many photographers are too busy with the daily reality of creating and processing images for their existing clients to think about the additional task of online distribution.
If you haven't already explored online sales platforms for your work, and you've taken our advice about getting your archive in order, now is perhaps a good time to finally get a return on all those pictures you've been squirreling away on endless hard drives.
Think of your archive as creative capital. You can either store it under the equivalent of your mattress (in all those hard drives), or you can put your archive in the 'bank' using an online archive management platform. When your archive is uploaded to an online system that offers the ability to process transactions, you immediately open yourself up to earning some extra cash.
The first step is to identify one or more sales channels for your work.
The market is basically divided into two levels: microstock agencies and the traditional agencies.
The difference lies in the size of the licensing fees. You guessed it, microstock agencies charge micro-sized licensing fees, while you can expect much higher fees from traditional agencies.
Unsurprisingly, it's pretty easy to upload your work to a microstock platform (see our list of microstock links below).
Gaining distribution via traditional agencies like Zuma http://www.zumapress.com/ or Redux https://www.reduxpictures.com/ or the biggest player of them all Getty images (www.gettyimages.com), is likely to be more challenging. These agencies pride themselves on offering more exclusive content and working with professional contributors, and so tend to pick and choose who they work with.
By far and away the biggest player in the online market place for imagery is Getty Images (www.gettyimages.com). LightRocket has a unique partnership with Getty, offering members the chance to apply and become Getty contributors (have your images licensed by Getty). Remember, Getty is very selective and is only looking to work with productive professionals, but if you think you've got what it takes check out the details of how to apply here.
Here's a list of microstock agencies you might also want to take a look at:
3. Hone your lighting and still-life skills
If you're not already a product photographer and have never had much inclination to explore still life photography, now's your chance to try your hand at something new.
You're locked down at home anyway. Why not channel your creative energy wherever you can. Break out the flashes and LED lights – or use whatever lighting you have to hand – and start creating compositions with the objects you find around you.
Pretty soon you'll learn the infinite possibilities of still life photography and just how much skill and practice it takes to create a stunning well-lit image from a few objects gathered around home.
Food photography is an obvious place to start. Think of ways to make food look like a work of art and you'll be on the way to adding a new service to offer on your site.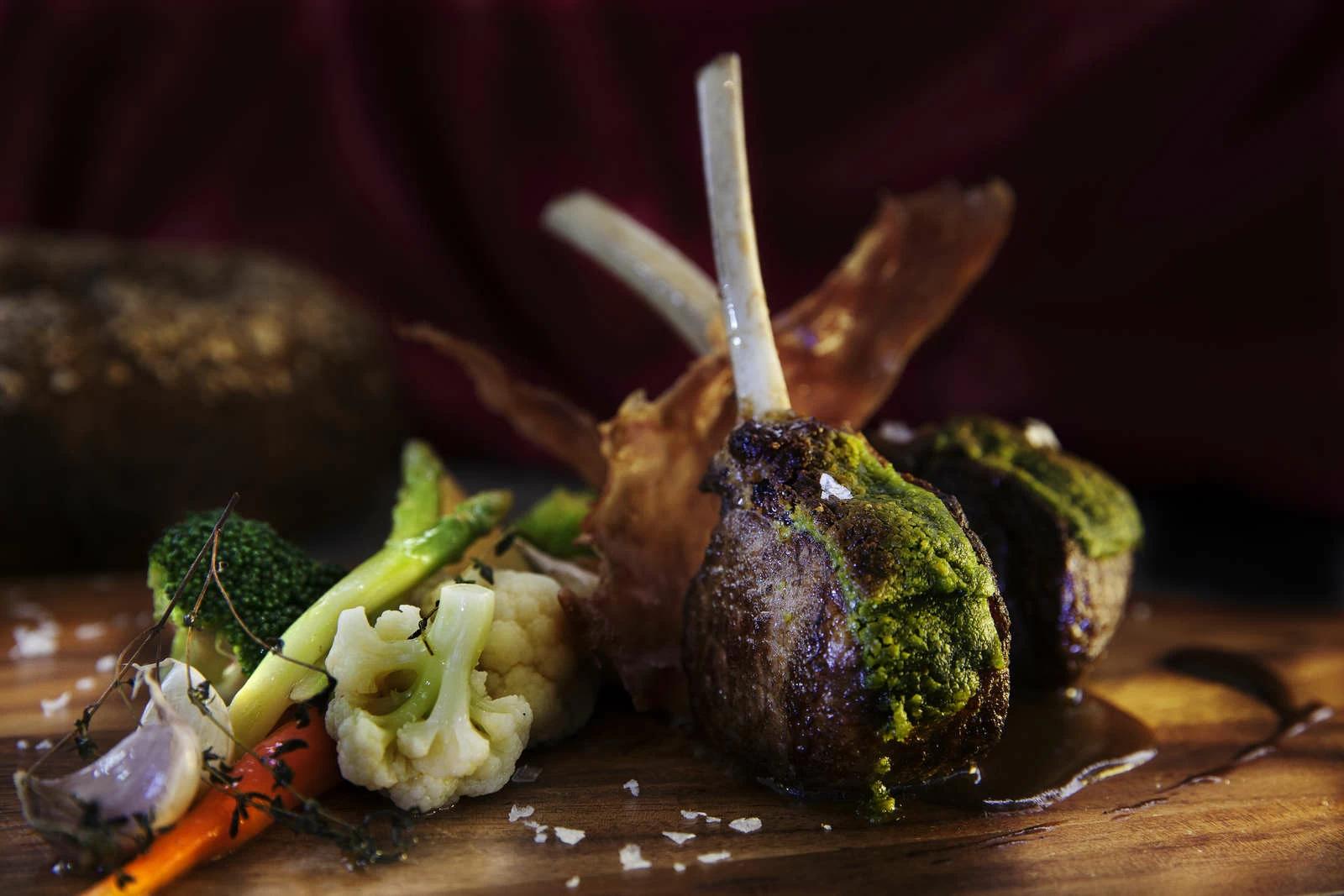 A beautifully prepared lamb chop dish. Photo by Yvan Cohen
4. Focus on digital marketing
Many photographers are artists first and businesspeople second. That's all well and good, but however passionate you are about your visual art you still need to put food on the table and pay the rent.
Behind the story of most successful photographers is an understanding of what it takes to promote themselves and their work. You might be the best photographer on the planet but if nobody has every heard of you or seen your images, life will be hard and you might even end up having to find other work to pay the bills.
That being said, most photographers would rather be out and about taking pictures than thinking about a digital marketing strategy.
Confined to our homes and without assignments, now is an ideal time to start thinking about your brand and to start promoting your work through the many channels available.
Brand is just a fancy word for 'identity'. Cultivate your identity as a photographer so potential clients have a clear idea of your strengths and interests. When a client hires a photographer they're not buying a product, they're investing in your creative personality. To win clients you need to make your art and talent shine.
There's no mystery to it. Here are a few helpful steps:
Collaborate and engage with other photographers. There are many social media channels like Facebook, Instagram, LinkedIn and Reddit where you can find groups of like-minded photographers. Engaging with them can create opportunities and in turn get photographers engaging with your work.
Optimize your website. This includes making it look as professional as you'd like and increasing the SEO of your website (we're provided some tips here).
Find more places to share your work and get noticed. Check out websites like Pinterest to push your work out to these outlets. It can only increase the amount of exposure you get and enhance your brand.
Remember, however, that digital marketing is an ongoing task and yields cumulative results. Once the lock-down is lifted and life returns to normal, make sure you maintain your digital marketing activities to avoid sinking back into obscurity.
5. Deepen your photographic culture
It's hard to develop your identity and deepen the scope of your work without building on solid foundations.
These foundations are your photographic culture. It's hard to innovate and create without first gaining some understanding of the discipline you are seeking to master. The best way to do this is to learn from the masters themselves.
Use the lock-down to explore the photographic universe in all its dimensions: historical, creative and even technological. Learn about the roots of photography, learn from and be inspired by the greats.
There are endless resources to explore online but it's also a great idea to start building your own photographic reference library. Find photographers whose work you admire and buy their books so you can study their work in print (it's not quite the same as on the screen).
6. Describing the crisis in pictures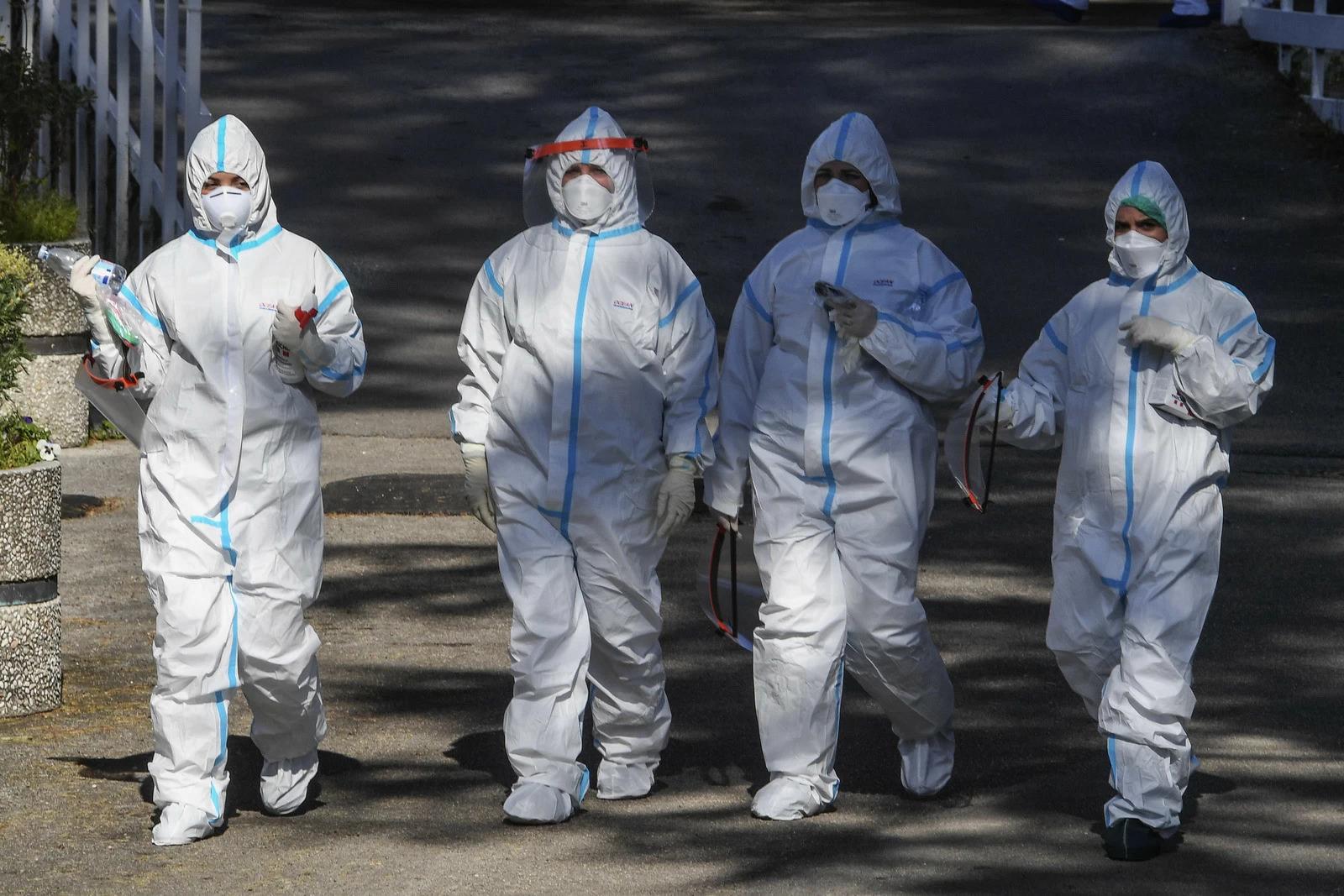 Doctors of the Cotugno hospital for infectious diseases go to the Pre Triage tent to check and compare the data found on Coronavirus infections (COVID-19). Photo by Salvatore Laporta of Kontrolab
We are living through a unique moment in history. Our lives are being transformed, perhaps permanently.
As a photographer, you can relate to the pandemic as a visual artist, seeking ways to describe our new reality in pictures.
This doesn't mean you have to put yourself in harm's way by photographing isolation wards or testing centers – although these can be great subjects too. Just photographing the emptiness of cities is a way of describing the situation too.
You can either describe the pandemic in documentary terms or you can seek ways to express how it feels to live through a pandemic in more abstract or esoteric ways. Anything goes. The idea is to use the current crisis as a creative touchstone for some original work.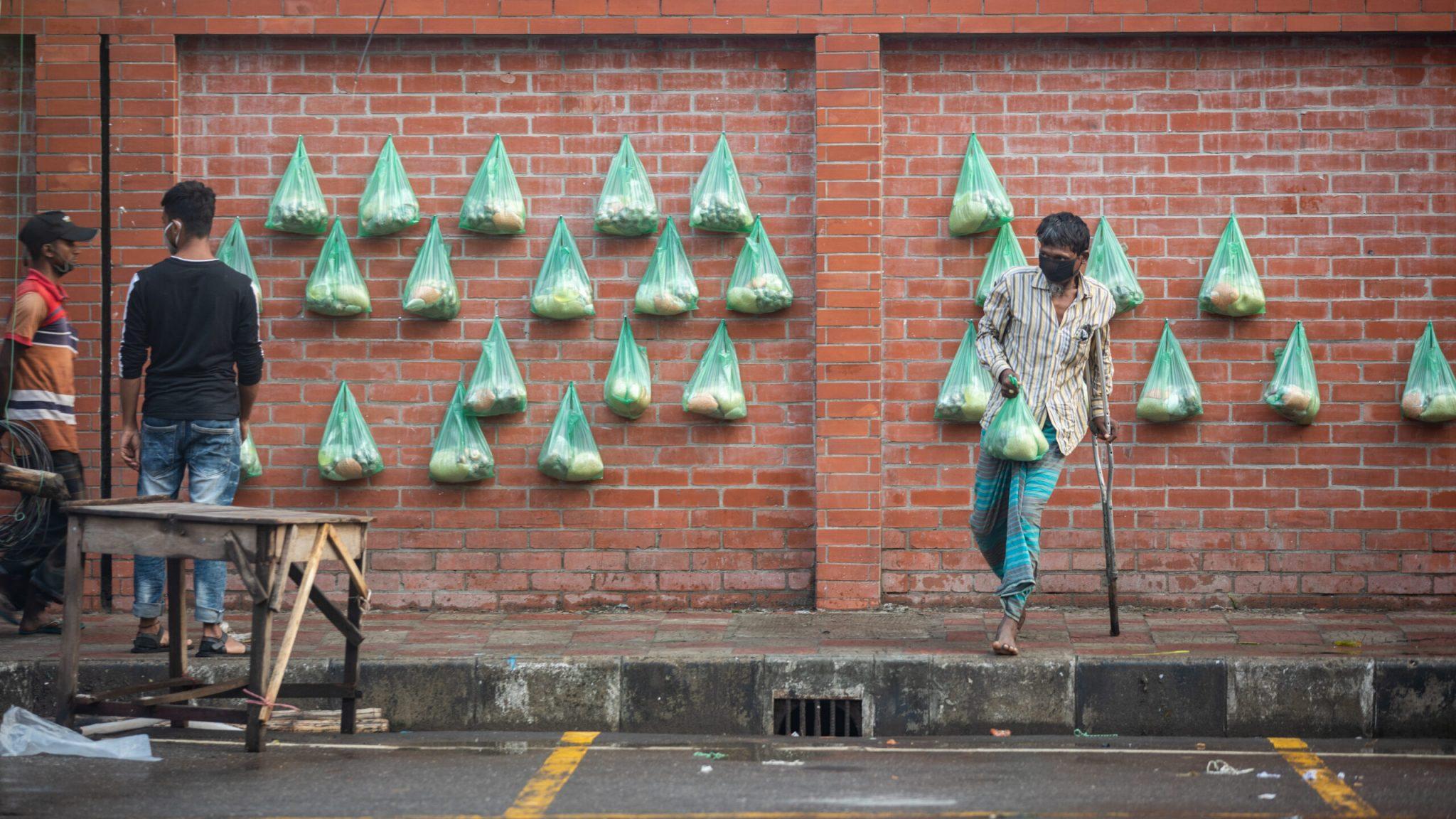 Members of the Bangladesh Civil Service Taxation Association keep relief material hung on a wall for the poor at Kakrail in the capital on Wednesday. The combo pack contains rice, lentil, potato, onion, salt and oil. Photo and story credits by Imtiaz Mahbub Mumit.
7. Learning new skills
Look on the bright side. You've got time on your hands. How many times have you told yourself you really should do a course or learn a skill in this or that?
Well now is that time.
There is a plethora of courses available online. You can hone your Photoshop skills, learn about Director or how to edit video.
The possibilities are almost literally endless. And, the amazing thing is many online courses offer amazing value for money. For as little as 10-15 dollars you can enroll in a course complete with video tutorials and exercises you can do from the safety of your home.
Two of the better known sites offering online courses are Udemy or Masterclass but there are plenty more out there.
---
Written by Yvan Cohen | Yvan has been a photojournalist for over 30 years. He's a co-founder of LightRocket and continues to shoot photo and video projects around South East Asia.
Featured photography by Salvatore Laporta
To read more helpful articles on photography, check out our blog page.
Join our growing photographer community at LightRocket and get powerful archive management and website building tools for free!
---