Reflections on Covering Thailand's Mass Shooting
YC
Yvan Cohen
Tue Oct 11 2022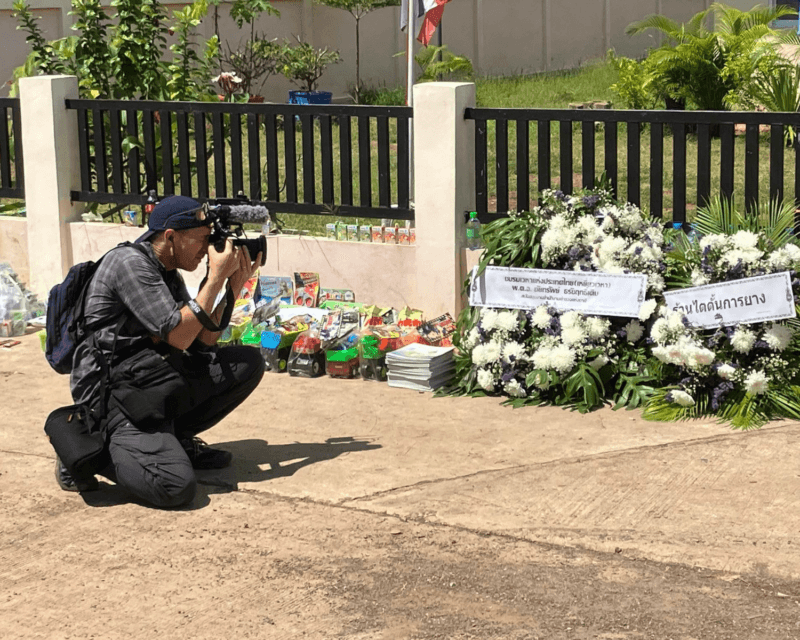 By Yvan Cohen
On the afternoon of October 6th, I got a call offering me a filming assignment to cover a breaking news story. A gunman had burst into a community day care center in rural northeast Thailand, shooting and stabbing an, as yet, unknown number of victims.
By the time I boarded a dawn flight from Bangkok the following morning, the killer, Panya Khamrab, was dead (he had killed himself) and the death toll from his rampage stood at 36, including 24 young children; many of whom he stabbed as they slept.
As journalists, our job is to report what happens. But when a community has faced such violence, when so many parents are living through the nightmare of losing a child, that job becomes a very delicate balancing act. We must chart a course between the practicalities of telling a story (and satisfying one's editors) and our moral responsibility towards those whose story we tell.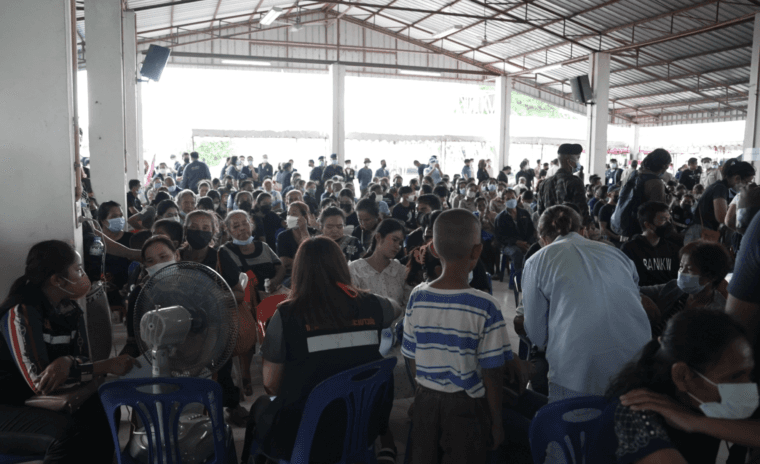 Parents and relatives gather under an open-sided shelter just opposite the day care center where the attack took place. Photo by Yvan Cohen
The scene at Nong Bua Lamphu
The scene at the location of the shooting was both moving and slightly strange. By midmorning when we arrived, swarms of local and international journalists were already at work – gathering images and carrying out interviews. Thai officials, in their immaculate uniforms, were busy writing reports and getting relatives to sign various forms.
A hundred or so people, most already dressed in black, were seated in neat rows under an open-sided shelter. Some hugged each other, some sobbed, others simply stared blankly into the middle distance. The community was clearly in shock.
For photographers and cameramen reporting on any story, it's partly about process: setting the right ISO, choosing an appropriate aperture, checking sound levels, looking for a strong composition, working with light and so on.
But when such deep human suffering is involved, a new set of factors comes into play. This is no ordinary situation. We are bearing witness to personal tragedies. It is both a privilege and a responsibility.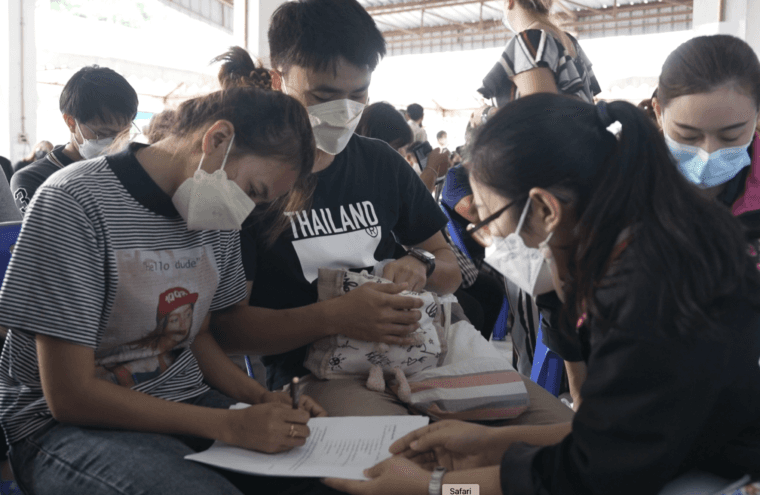 Grieving parents fill out official forms at the scene of the shooting. Photo by Yvan Cohen
Discovering limits while on assignment
Just how close should I get to a grieving relative, I ask myself? The closer I get, the stronger the picture. But at what point am I being invasive? When does this start being more about me – and my desire to get a great shot – and less about the story and the victims?
At one point I heard a wailing sound and turned to see a woman crouched against a wall, weeping uncontrollably as she clutched what looked like a child's blanket.
My first instinct was to move closer. I was drawn in by the drama of the scene. My instincts were telling me 'it's a strong moment', it will be a 'good' shot – and then I stopped. Our correspondent was concerned I was getting too close. I imagined how I would feel if a camera loomed towards me, framing up a shot, as I wept.
There are limits. This is not just a shot to be 'grabbed', I reflected. I stepped back and framed my shot from a more respectful distance.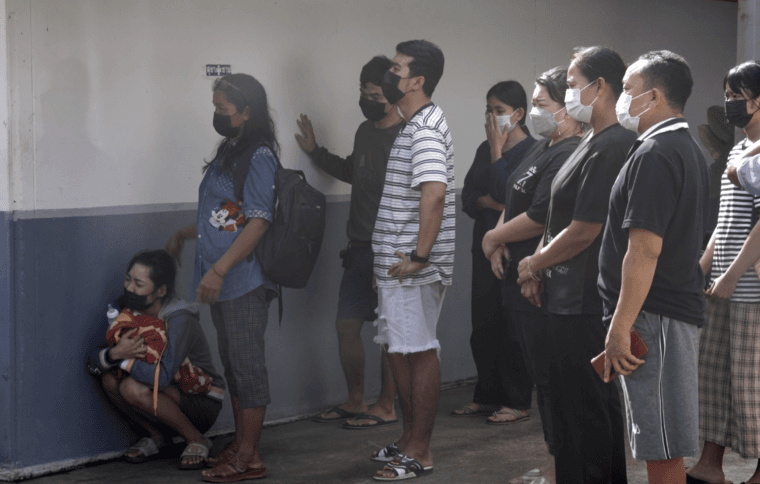 A woman hugs a blanket, weeping as she mourns her child who was among 24 childen killed by Panya Khamrab at a child care center in northeast Thailand. Photo by Yvan Cohen
Crossing the line
There is no universal rulebook telling us exactly how to behave in such situations – although most media organisations do (or should) have ethical guidelines. And even if there are guidelines, there is no guarantee that, in the heat of the moment, journalists will follow them. Just how close you get to subject in distress is a matter for personal judgement.
A team from CNN threw ethics to the wind when they talked their way into the day care center where the killings had taken place, filming bloodstains and abandoned toys as the backdrop to a report calibrated for maximum impact, while showing minimum concern for the feelings of the families.
CNN's gamble for journalistic glory backfired. Their report caused an uproar on social media. Even fellow journalists proclaimed their dismay and disapproval.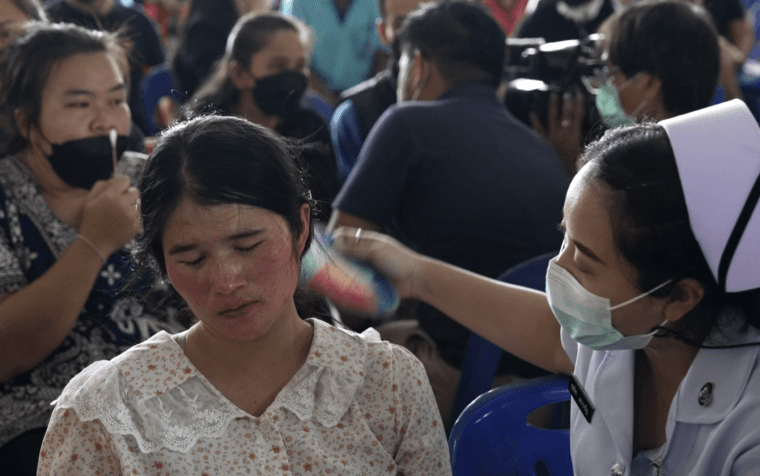 A nurse fans a woman who appears to be in shock as she grieves for her child who was among 24 childen killed by Panya Khamrab at a child care center in northeast Thailand. Photo by Yvan Cohen
Final reflections on covering Thailand's mass shooting
As I reflect on the experience of the past few days, I am struck by how easy it is to cross that invisible line where our desire to get a great shot says more about ourselves (and our ego) than it does about our subjects.
I have become more aware of the delicate balance between our professional mission as reporters and our moral responsibility as fellow human beings. The rule must always be to show empathy and respect for one's subjects, to never see them as mere compositional elements in a viewfinder or 'just another story'', to always honour their humanity and dignity, and transform the power of those sentiments into stories and images that are honest, informative and memorable.
---
Written by Yvan Cohen | Yvan has been a photojournalist for over 30 years. He's a co-founder of LightRocket and continues to shoot photo and video projects around South East Asia.
Cover image by Chow Latit
To read more helpful articles on photography, check out our blog page.
Join our growing photographer community at LightRocket and get powerful archive management and website building tools for free!
---